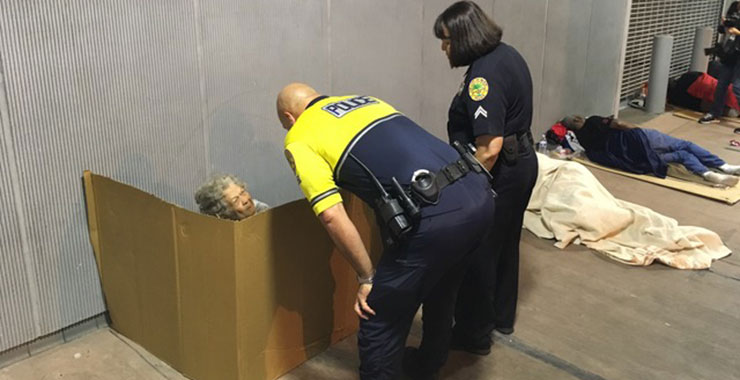 If you or someone you care about is homeless in Miami-Dade County, call the Homeless Helpline at 1-877-994-4357‬. Outreach team members will assess the situation and discuss possible next steps.
We want your feedback. If your experience with homelessness has led you to receive services from an outreach team, homeless shelter or rental assistance provider under contract with the Miami-Dade County Homeless Trust, we want to hear from you. Take this 5-minute survey.
We know how scary it can be to teeter on the edge of homelessness. Miami-Dade County has created a number of resources to help you explore all possible options to discuss housing options and alternatives.
Call 1-877-994-4357‬, select your language of choice and press #1 for more information.
Since emergency shelters in the community do not take walk-ins, the Homeless Helpline is the single best way to identify persons experiencing homelessness.
Mobile outreach teams serve as the "front door" to the homeless system and teams canvas the entire geographic area of Miami-Dade County identifying individuals living in places not meant for human habitation such as the streets, cars, parks or abandoned buildings. Outreach teams also partner with school personnel, police departments and others to identify homeless households.
Outreach teams coordinate with hospitals, courts and other institutions to coordinate and plan the discharge of persons experiencing homelessness.
Designated access points are also established to assess and assist vulnerable homeless sub-populations, including unaccompanied youth, persons fleeing or attempting to flee domestic violence, dating violence, sexual assault or stalking and veterans.
For additional resources and support, download this
Directory of Services
and call 1-877-994-4357.
After calling the Helpline at 1-877-994-4357, services can be accessed at:

Additional Resources:

Food Assistance
Hot meals are provided to homeless and at-risk households throughout Miami-Dade County thanks in large part to community-based organizations and faith-based groups. Longtime hot meal sites serving primarily unsheltered individuals include:
Camillus House Day Center
Monday - Friday at 8:30 a.m.
Tuesday and Thursday at 12:30 p.m.
Miami Rescue Mission
Monday - Friday from 4 p.m. to 6 p.m.
The Missionaries of Charity of Mother Teresa
Every day, except Thursday from 10 a.m. to 11 a.m.
*Note: Feeding dates and times are subject to change.

Showers
Shower services are available at the following locations:
Camillus House - Monday - Friday beginning at 6:30 a.m.
Miami Rescue Mission - Monday, Wednesday and Friday from 2 p.m. to 5 p.m.

Mail Services
Persons who are experiencing unsheltered homelessness can send and receive mail at Camillus House Monday - Friday from 11 a.m. to noon.
Unaccompanied youth and young adults between the ages of 18 and 24 experiencing homelessness can visit any one of these access points:
Persons fleeing domestic violence can also call the Homeless Helpline at 1-877-994-4357, and after selecting a language, press #2. Call Florida's Domestic Violence Hotline at 1-800-500-1119 or visit the
Florida Department of Children and Families
to learn more about local domestic violence centers.
Homeless Trust policy prioritizes families with minor children experiencing homelessness for available crisis housing (emergency shelter) ensuring that no child is forced to sleep on the streets. Families can access assistance by calling 1-877-994-4357, and after selecting a language, press options #4 or #5.
Veterans experiencing homelessness can also call the Homeless Helpline at 1-877-994-4357 and after selecting a language, press #3 or call the National Call Center for Veteran Homelessness at 1-877-4AID-VET (1-877-424-3838).
Veterans at-risk of homelessness in Miami-Dade County can connect with the following organizations:

Our integrated system of care has received national accolades and benefited thousands of veterans in South Florida.
Local and state residency restrictions are in place for sexual offenders and predators residing in Miami-Dade County.
Florida state law requires those convicted of certain sex crimes against a child under 16 years of age from living within 1,000 feet of a school, day care center, playground, park or other place frequented by children. Further, Miami-Dade County's
Lauren Book Child Safety Ordinance
makes it against the law for a sexual predator to live within 2,500 feet of any school in Miami-Dade County.
Note: All dwellings must be approved by the probation officer responsible for supervising offenders on community control.